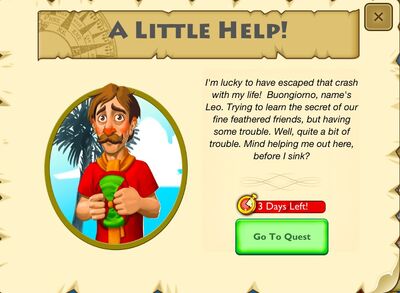 A Strange Device! is a limited time quest that rans from 07-02-2013 till 10-02-2013 (probably should be 2012, but it can appear outside those dates). The quest has 5 parts and a three day deadline. It's a floating above the sea quest.
Total costs
Total costs
Total reward
Coins
811,900


1 long voyages (any ship)


11,100
Pearls
----
400
Sapphires
----
10
other
Prequel
A Strange Device! (1/5)
Challenge:
Those pirates keep trying  to shoot me down. I quess they're a bit afraid of us getting the power of flight...
Defeat 2 pirates.
Do a long voyage (any ship).

Reward:

A Strange Device! (2/5)
Challenge:
You keep those pirates at bay, ans I should be able to repair my invention and get her out of here.
Defeat another pirate.
Tap 20 dolphins.
Get a otter (a decoration, costs 25,400 coins, 10 hrs build time).

Reward:
A Strange Device! (3/5)
Challenge:
Oh no! Her wings are waterlogged and she's sinking faster! We have to reel her in, now!

Reward:
Sequel 1
A Strange Device! (4/5)
Challenge:
Molto bene, we've got her ashore. But she needs more than I thought. This flying thing is much harder than those birds make it look!
Build a Taffy Shop for something "sticky" (costs 786,500 coins, 11 hrs build time).
Find a canvas to stick to the yoke.
Collect from fish pond twice, to get some oil for the wheels.
Reward:
A Strange Device! (5/5)
Challenge:
We're just about done.Let's see if we can at least get this drifting again! We need space and runners to get speed.

Reward:
Sequel 2
Ad blocker interference detected!
Wikia is a free-to-use site that makes money from advertising. We have a modified experience for viewers using ad blockers

Wikia is not accessible if you've made further modifications. Remove the custom ad blocker rule(s) and the page will load as expected.