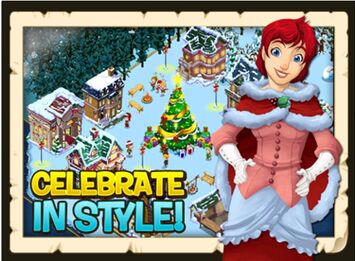 Tap Paradise Cove: Holiday Adventure was released on the 1st of December, 2012 as a Christmas variation of the standard Tap Paradise Cove game and was tied back with the Save The Holidays! quest.
It uses the same maps and game structure, but with new Christmas themed characters, houses, merchants, ships, etc.
Houses are required to build coin merchants. Houses can not be upgraded. They still produce profit, but are not as effective at generating coins as merchants.
LT = Available for a Limited Time
Regular Houses are bought with coins where as Premium Houses are bought with holly berries. As a general rule, Premium Houses will take longer to pay out but will pay much more.
Regular Houses
Premium Houses
Reward Houses
Ad blocker interference detected!
Wikia is a free-to-use site that makes money from advertising. We have a modified experience for viewers using ad blockers

Wikia is not accessible if you've made further modifications. Remove the custom ad blocker rule(s) and the page will load as expected.