Storage was rolled out in iOS version 3.6 and appears when you reach level 40.
However it is another (glacially) slow release and has yet to reach all players
You place an item in storage by chosing the "Move" option in the Arrow Menu on the lower left of the screen.
Click on an item and choose "Store".
The storage area itself is accessed via the Hammer Icon : My Stuff : Storage (see pictures below)
When you receive this facility, you get ten storage slots, each of which can hold one merchant, house, ship or decoration.  Items can be placed in to, and removed from, storage whenever you want, but no revenue will be generated by items whilst they are in the storage area.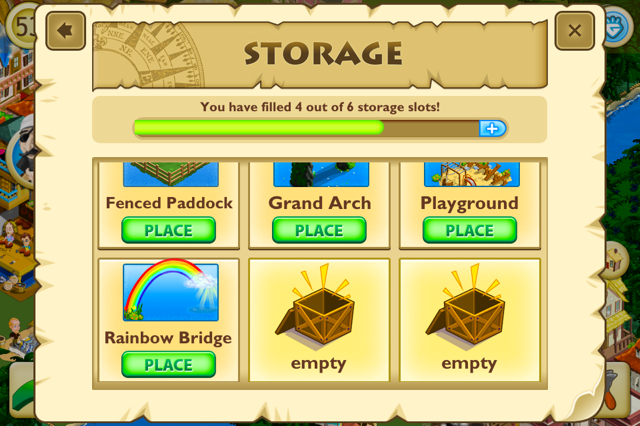 Extra slots can be purchased for 3 Rubies each.
Ad blocker interference detected!
Wikia is a free-to-use site that makes money from advertising. We have a modified experience for viewers using ad blockers

Wikia is not accessible if you've made further modifications. Remove the custom ad blocker rule(s) and the page will load as expected.