The Gorgon Stats

| | |
| --- | --- |
| Attack / Defense | 13 / 15 |
| Respawn Time | 54 Hours |
| Bribe Cost | 521 |
| Find Ship/Find Now Cost: | 2 |
| Location: | Near the Library Towers. |
| Related Quests: | Stony Shores |
| Average Payout: | 16-35 |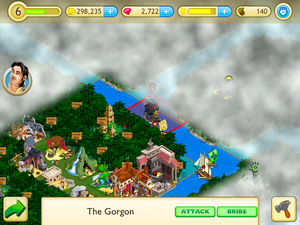 Tips and Notes
To avoid repair costs, attack The Gorgon with a ship that has 59 or more power to beat it in one shot.
Cpt. Beth's Cruiser fully upgraded; or  Boudicca Battleship, possibly at tier 7, but definitely at tier 8 should be able to see The Gorgon off with a single shot.
Defeating Illustirous Ilian will stop The Gorgon from appearing.
Ad blocker interference detected!
Wikia is a free-to-use site that makes money from advertising. We have a modified experience for viewers using ad blockers

Wikia is not accessible if you've made further modifications. Remove the custom ad blocker rule(s) and the page will load as expected.