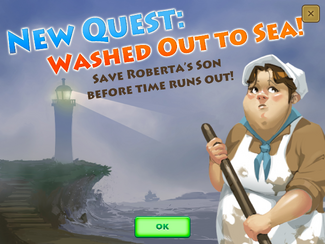 Washed Out to Sea is a Limited Time Quest that becomes available after xxxxxx and has 4 Parts. Each part has a 48 hour deadline in which to complete the challenge.
Rescue Crew, Assemble
Challenge:
My son, jeremy, is lsot at sea.  help me assemble a rescue crew!
Reward:
We're ready to search, but these terrible pirates are keeping me from my child!  Can you help me hold them off?
Holding Off Pirates
Challenge:
Fight the pirates and hold them off while we search!
Reward:
It's no use!  The pirates are going to reach my baby before we can.  Our only hope is to persuade the mermaids to help!
Help from Under the Sea
Challenge:
Find the mermaids and ask them if they've seen my baby boy!
Reward:
We found my boy!  Now, it's time to voyage home.  We need a bright beacon to guide our way!
The Journey Home
Challenge:
Please guide us home.  We need a beacon in the dark!
Reward:
I'm forever grateful!  Please make these docks safer so this never happens again.  Hurry, before time runs out!
Stronger Docks
Challenge:
Construct stronger docks and keep all the children safe.  Win sapphires and rubies if you do it in time!
Reward:
You finished the docks in time! Now, the children can play safely by teh shore. Take these gems as a prize!
Ad blocker interference detected!
Wikia is a free-to-use site that makes money from advertising. We have a modified experience for viewers using ad blockers

Wikia is not accessible if you've made further modifications. Remove the custom ad blocker rule(s) and the page will load as expected.